Exclusive Greenland Fact-Finding Expeditions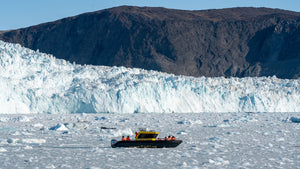 Join an exclusive 2023 Fact-finding Expedition to Greenland, led by Explorers Club Fellow John Englander. Greenland is "ground zero" for the melting ice sheets that will surely change coastlines all over the world this century. This is the same private program that columnist Bret Stephens experienced and recently wrote about in a major New York Times feature, describing his transformed awareness about climate change, "Yes, Greenland's Ice Is Melting, But…"
These Greenland/Iceland trips are organized by the Rising Seas Institute, a nonprofit think tank and policy center working to advance adaptation to rising sea level. Oceanographer John Englander, President of the Institute, is a leading expert on rising seas and has led many expeditions to Greenland and the High Arctic. Englander has delivered high-level briefings and keynote addresses to diverse international audiences including military leaders, the U.S. Congress, corporate executives, and professional societies. His most recent book, Moving to Higher Ground: Rising Sea Level and the Path Forward, is highly acclaimed as a clear case to plan for massive adaptation while there is still time.
Participants on these small, 7-day expeditions to Iceland and Greenland can witness evidence of the rapid melting and collapse of the Greenland glaciers and ice sheet. Learn about the impact on global sea level rise in very clear language, putting recent changes in the context of natural geologic history. Greenland is the largest island in the world, with an ice sheet averaging more than a mile in thickness. If it fully melts, global base sea level would be more than twenty feet (six meters) higher. This is the best place to understand the driving force behind the global challenge of rising sea level. Learn about climate change from experts in an ideal setting for perspective and reflection, without any social or political message.
Highlights of the trip include surveys of the ice sheet, glaciers and gigantic icebergs up close, by helicopter, boat and aircraft. See the "rivers" of meltwater. Walk on a million-year old glacier. Photograph enormous icebergs – and likely calving events – up-close by boat. These five-day programs to Greenland start and end with two days in Reykjavik Iceland, visiting a geothermal "green energy" power plant as well as a demonstration project to remove carbon dioxide from the atmosphere, a possible path to slow global warming from elevated "greenhouse gases" resulting from burning fossil fuels. The programs are all inclusive, with fine accommodations and meals.
There are three programs in 2023: June 25-July 1; July 2-8; July 9-15, but space is quickly being booked. Capacity on these exclusive trips is strictly limited to 9 participants. A full PDF brochure can be viewed and downloaded here.
To make a reservation or answer any questions, use the contact form at the RSI website, and reference "Investable Oceans" in the Comments box for priority consideration.
Image Credit: J. Mark Grosvenor 
SHARE
By Rising Seas Institute
Enter text for this Experience - leave blank for default