Exploring the Yucatán Peninsula with Fundación Ara macao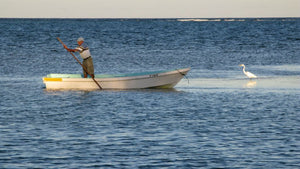 Explore the southern Yucatán Peninsula of Mexico with Fundación Ara macao through an exclusive and uniquely curated expedition. Discover the ecological treasures of the region and participate in local and Indigenous community immersions to gain an intimate understanding of the challenges they face and the development opportunities they seek in their efforts to protect their identity and natural environment for future generations.
Expedition Highlights:
Visit the most structure-rich archeological sites of the Mayan Empire located in the jungles of the Calakmul Biosphere Reserve.
Travel by boat through the turquoise shallows and mangrove channels of the Laguna de Chetumal, reaching the Arrecifes de Xcalak National Marine Park. Spend time in a storied remote fishing community with its residents, including members of the Fishers' Cooperatives and the National Park Ranges.
Venture further by boat to the pristine off-shore atoll Banco Chinchorro Biosphere Reserve to spend several days hosted by the Fishers' cooperatives, living at their rhythm in a rugged seasonal fishing camp. Discover the difficulties of sustainable lobster fisheries, share meals around fires and explore the wondrous ecology of the "north end" of the Mesoamerican Barrier Reef.
Explore remote mythical cenotes and Mayan communities as you experience first-hand Mayan hospitality and the wonders of this ancient culture. Learn about traditional agriculture and food preparation, Mayan rituals, natural medicine and natural history through several days of intimate interactions.
Active engagement with the natural environment with accredited local guides will also be available throughout the expedition, including scuba diving, snorkeling, birding, kayaking, caving and more.
This 10-day expedition is currently scheduled for early October 2023. Due to the highly curated nature of this expedition, space is very limited.
Please express your interest in this or future expeditions with a purpose by contacting Liliana Rodriguez Cortes at l.rodriguez@fundacionaramacao.org 
Image Credit: Francois Bailet
SHARE
By Fundación Ara macao, A.C.
Enter text for this Experience - leave blank for default