Seajourn through Raja Ampat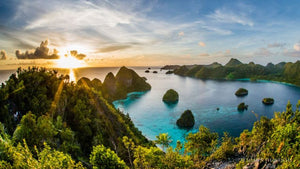 Explore the world's most biodiverse marine environment on a sailing Seajourn through Raja Ampat.
Join a small, exclusive group led by Shawn Heinrichs as you discover the unique and abundant marine species of the Coral Triangle aboard a luxurious incarnation of a traditional Indonesian sailing ship.
This is a uniquely crafted opportunity to be immersed in Only One's groundbreaking conservation work. Having helped establish the world-renowned Misool Marine Reserve and, in doing so, helped to transform the local culture and economy (previously a hub for manta ray hunting), as well as fully protecting and recovering the area's precious ecosystems.
Visiting some of the world's most fantastic coral reef sites, you will have the opportunity to scuba dive and snorkel with some of the most unique and charismatic species found anywhere in the oceans, including giant oceanic manta rays, whitetip, blacktip, and grey reef sharks, to name a few.
When you are not exploring amazing sights underwater, you will sail through uninhabited islands, sea kayaking into hidden coves and mangroves, hiking to scenic lookouts, picnicking on remote beaches, and more!
Dates: April 15-28, including travel.
Photo Credit: Shawn Heinrichs
Enter text for this Experience - leave blank for default