This ship has no crew and it will transform our understanding of the ocean. Here's how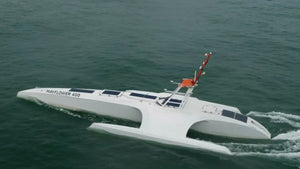 AI ships and marine autonomous systems offer an innovative new way to collect critical ocean data.
The Mayflower Autonomous Ship (MAS) uses AI and energy from the sun to independently traverse the ocean, gathering vital data to expand our understanding of the factors influencing its health.
In the future, networks of autonomous research vessels, drones and submersibles could spend months at sea, allowing human oceanographers more time for data interpretation and action rather than data collection.
SHARE
SOURCE
weforum.org
by Rosie Lickorish, World Economic Forum
MORE INNOVATIONS LIKE THIS
Enter text for this Innovation - leave blank for default