Qatar plans to build floating hotel that spins to produce its own electricity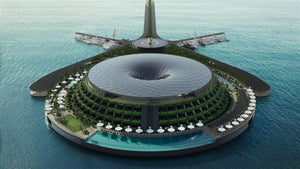 A floating eco-hotel that would spin very slowly to generate its own electricity via solar, wind, and tidal energy is set to come up off the coast of Qatar, according to Turkish architectural design studio Hayri Atak.
The studio (HAADS) has shared its design for a 152 room 'eco-floating hotel' designed to minimize energy loss and with a zero waste principle The hotel will feature VAWTAU or vertical axis wind turbine and umbrella, on the vertical plane.
This works as a wind turbine, while on the horizontal plane it serves as a sun umbrella. HAADS says that this system can obtain 25 kW of energy from each of the 55 VAWTAU modules.
Enter text for this Innovation - leave blank for default