Engineers Create 'Air Conditioning' for Salmon With Chilled Patches of River Water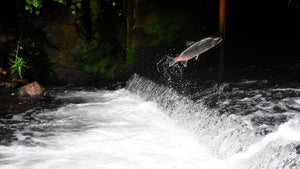 Just as humans flock to air conditioned spaces on hot summer days, wild Atlantic salmon congregate in chilly patches of river water as they make their way upstream to spawn. These so-called "thermal refuges" are becoming increasingly important to the salmon's survival as river temperatures rise amid human-caused climate change.
Natural thermal refuges tend to occur near groundwater springs that release cool water into the stream. But over this summer of record-breaking heat, researchers in Nova Scotia, Canada, tried to help the fish by creating additional cold areas in the region's Wrights River.
SHARE
SOURCE
smithsonianmag.com
by Sarah Kuta, Smithsonian Magazine
MORE INNOVATIONS LIKE THIS
Enter text for this Innovation - leave blank for default