A kelp elevator could speed up seaweed's route to biofuels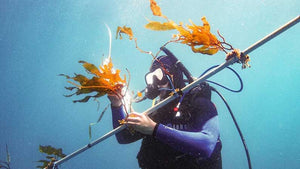 Trees are seen as crucial allies in the fight against climate change. But as the climate crisis becomes more urgent, many eyes are turning to the forests of the sea. Seaweed, it turns out, holds promise as a biofuel crop. To make it cost-competitive with fossil fuels and other biofuels though, it will have to be grown in massive amounts.
Researchers at the University of Southern California might have a solution. They have devised a new technique to boost the growth of kelp, the largest type of seaweed, by four times. Their contraption, called the kelp elevator, raises and lowers kelp to different depths, exposing it to different sunlight and nutrient conditions and speeding up growth.
Image: Maurice Roper, USC
Enter text for this Innovation - leave blank for default